Kalua Pig Recipes
Traditional Kalua Pig is pork roasted in an underground oven called an Imu, but simpler versions can be cooked in a modern oven or a crock pot. Modern recipes sometimes add seasonings like garlic, soy sauce, and ginger, but more traditional recipes are often seasoned only with salt and smoke from the Imu.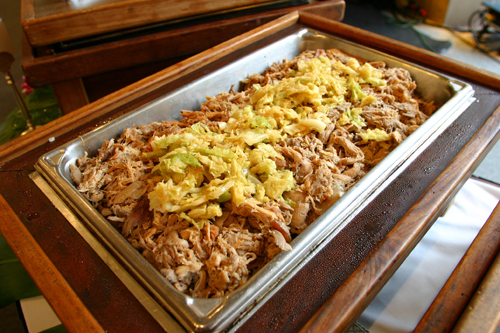 Photo Credit: Hawaii Tourism Japan
OVEN ROASTED KALUA PIG I


Ingredients:
-4 pound pork butt roast
-1 tablespoon liquid smoke
-2-1/2 tablespoons Hawaiian salt

Instructions
-Preheat oven to 325 degrees. Rub pork with liquid smoke and 1-1/2 tablespoons of the slat. Wrap pork in foil and seal tightly. Place foil packet in a baking pan (to prevent drippings from getting on your oven) and bake for 5 hours. Shred pork and sprinkle with remaining Hawaiian salt.


---




OVEN ROASTED KALUA PIG II


Ingredients:
-3 to 5 pound pork butt roast
-6 ti leaves or 2 banana leaves
-3 teaspoons of salt
-1/2 cup tamari soy sauce
-2 teaspoons worcestershire sauce
-5 garlic cloves, crushed
-2 inch piece of ginger, crushed
-2 teaspoons liquid smoke

Instructions:
Combine seasonings and rub all over pork, and marinate the pork for 1 hour. Wrap roast in leaves, then in heavy foil. Bake at 325 degrees farenheight for 4 or 5 hours. Drain off the fat and shred meat.



Printer Friendly Version of These Recipes


See also:
- More Hawaiian Pork Recipes
- Alphabetical Index to All Recipes
---
Related Links
Hawaiian Food Recipes
Islands of Hawaii
Hawaii for Visitors
---