The Companies We Keep
A Book by Bob Sigall
Amazing stories about 450 of Hawaii's best known comp[anies, in a book by Hawaii Pacific University professor Bob Sigall and his students.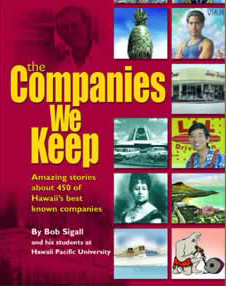 Official Web Site for the Book
TITLE: The Companies We Keep
AUTHOR: Bob Sigall
PUBLISHER: Small Business Hawaii
DATE PUBLISHED: 2004
---
Publisher's Book Description
The Companies We Keep" is a fascinating read for kama'aina (local residents) and anyone with an interest in Hawaii's rich history or who has spent time in the islands. The book includes stories about 450 businesses, contains over 3000 facts, and 275 historical photos and images. It also includes 20 fun quizzes and lists, a time line of businesses in Hawaii and much more!

This unique book grew out of an assignment given to the students in Bob Sigall's graduate-level Integrated Marketing class at Hawaii Pacific University. The students were asked to find out how well-known companies in Hawaii chose their names, slogans, and logos. After three semesters of reading their reports, it was obvious they had uncovered so many interesting stories, that they should be published. With that objective in mind, the assignment continued for another three years. The students interviewed over 150 companies and the author added more companies he knew to be interesting.
---
Related Links
All Books About Hawaii
Islands of Hawaii
Hawaii for Visitors
---