Golf in Hawaii
Articles and information about the sport of golf in Hawaii including golf courses, golf organizations, and Web sites devoted to golf in Hawaii.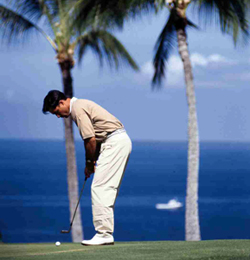 Photo Credit: Sri Maiava Rusden
---
Golf Courses in Hawaii


A directory of golf courses in Hawaii, including golf courses on Oahu, Maui, Kauai, Lanai, Molokai, and the big island of Hawaii.



Golf Tournaments in Hawaii


Information about golf championships, PGA and LPGA events, and other golf series and golf tournaments in Hawaii. Organized alphabetically by event name.


---



Hawaii State Golf Association


An organization founded in 1984 to serve the interests of golfers in Hawaii. Official representative of the United States Golf Association (USGA).

PGA Aloha Section


Official Web site of the Aloha section of the Professional Golfers' Association of America.



Golfing Hawaii: 72 Holes in 72 Hours


An article by Mike McAllister about golfing at four different golf courses in Hawaii during a 72 hour period. Includes descriptions of gold courses on Maui, Oahu, and the big island of Hawaii.



10 Best Golf Courses in Hawaii


The ten best golf courses in Hawaii selected by the editors of the Best Places Hawaii.



HeliGolf Hawaii


Luxury helicopter and golfing tours that transport one to four golfers from the island of Maui to a golf course on Lanai, Molokai, or the Big Island. Tours include air transportation, golfing equipment, a round of golf, and lunch.



Tee Times Hawaii


Organizer of golfing tours in Hawaii.
---
Related Links
Activities in Hawaii - Main Menu
Islands of Hawaii
Hawaii for Visitors
---