The Hawaiian Art of Lauhala Weaving
Articles and information about the arts of lauhala weaving and coconut palm frond weaving. Lauhala is the Hawaiian word for the pandanus tree.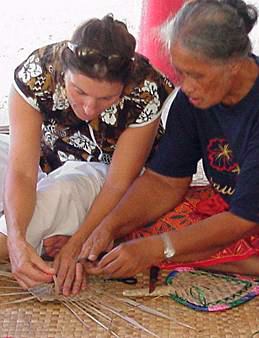 Photo Credit: U.S. National Park Service
---
Lauhala (Pandanus) Frond Weaving
Hawaiian Weaving: A Meaningful Legacy
An article by Betty Fullard-Leo in the Coffee Times about the history of lauhala weaving in the Hawaiian Islands and a profile of lauhala weavers Auntie Elizabeth Lee Auntie Elizabeth Akana, Esther Makua'ole, and Gladys Kukana Grace.

The Craft of Hawaiian Lauhala Weaving
A free online book by Adrian J. Bird that was originally published by the University of Hawaii Press. Includes information about the hala tree, Lauhala selection and preparation, and instructions for making a headband, bracelets, napkin rings, placemats, a fan, a basket (in PDF format).


Palm Frond Weaving
Palm Frond Weaving Articles and Resources
More About Weaving Lauhala and Frond Weaving
Books About Coconut Frond and Lauhala Weaving
A collection of books about the Hawaiian arts of coconut frond weaving and lauhala (panadanus) weaving including "The Story of Lauhala", "The Craft of Hawaiian Lauhala Weaving", "Arts and Crafts of Hawaii: Plaiting", and more. Some of the older palm frond and lauhala weaving books in this section may be hard to find, but if you search the Web you should be able to find new or used copies.

Lauhala Weaving Supplies on the Web
- Kahalani Mail Order Lauhala

See also:
- How to Make A Fresh Flower Lei
- Hawaiian Feather Craft
- Hawaiian Quilts
---

Related Links
About Hawaii
Islands of Hawaii
Hawaii for Visitors

A NOTE FROM KATHIE: If you have any corrections or updates to the information on this page or if you would like us to add any information or links, please send a message to the email address on our contacts page.
---