Portuguese Culture in Hawaii
Celebrating Hawaii's Portuguese Heritage
Information the Portuguese ethnic group in Hawaii, including when and why they arrived in Hawaii and their contributions to Hawaiian culture.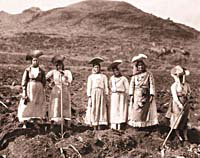 Portuguese Events in Hawaii
Honolulu Portuguese Festival


The 30th annual Portuguese Festa in Honolulu Hawaii took place Saturday, September 20, 2008 from 9:00 a.m. to 5:00 p.m. in the McCoy Pavilion at Ala Moana Park. Comedian Frank De Lima was the star entertainer. The first Festa organized by the Hawaii Council on Portuguese Heritage took place in 1978. Information about the 2009 event will be published here as soon as it becomes available. You can also call the organizers for more information at 808-845-1616.


Portuguese Organizations in Hawaii
Hawaii Council on Portuguese Heritage


Organization founded in 1977 to preserve and perpetuate the heritage and culture of the Portuguese people in Hawaii. Located at 810 North Vineyard Boulevard in Honolulu. Phone: 808-845-1616



Hawaii Island Portuguese Chamber of Commerce


Organization founded on the Big Island of Hawaii in 1982.


More About Portuguese Culture in Hawaii
The Portuguese Immigration to Hawaii


Articles and information about Portuguese immigration to Hawaii.



Portuguese Contributions to Hawaiian Culture


-Ukulele (based on the Madeiran braguinha)
-Hawaiian Steel Guitar (made from a Portuguese guitar)
-Frank DeLima (comedian)
-Troy Fernandez (Ukulele player)
-Glenn Medeiros (singer)
-Billy Martin (baseball player)



Hawaii's Favorite Portuguese Recipes


Recipes for Malasadas, Portuguese Sweetbread (Pao Doce, Hawaiian Sweetbread), Portuguese Bean Soup, Portuguese Sausage (Linguica, Chourico). and the spicy roast pork dish known as Vinha d'Alhos.



Portuguese in Hawaii: A Bibliography

(PDF)
These materials related to Portuguese in Hawaii are available in the Hawaii and Pacific Section of the Hawaii State Library at 478 South King Street in the historic capitol district of Downtown Honolulu.

See also:
- Portuguese Immigration to Hawaii
- Other Ethnic Groups to Hawaii
- Immigration to Hawaii
---

Related Links
About Hawaii - Main Menu
Islands of Hawaii
Hawaii for Visitors

Elsewhere on the Web
Portuguese Culture in Hawaii
Portuguese Holy Ghost Festival in Hawaii
The Holy Ghost Festival in Kula, Hawaii
Portuguese Historical Museum in San Jose California

A NOTE FROM KATHIE: If you have any corrections or updates to the information on this page or if you would like us to add any information or links, please send a message to the email address on our contacts page.
---